Artist Talk: Countess V. Winfrey
Virtual event recorded March 16, 2022
Countess V. Winfrey is the choreographer of Homage: What was, Is, To Come – new dance work that brings light to the Black experience of the past and present, and the dream of a Black Future in the Now. In her artist talk, Winfrey pulls back the curtain to her artistic process, sharing insight into the paths that led her to this project and into the ideas that continue to animate her work as a choreographer.
Artist Pathways: Writing Successful Project Proposals
Virtual event recorded March 16, 2022
OhioDance board president Rodney Veal joins esteemed arts leaders, April Berry, Chiquita Mullins Lee, and Tamara Williams for this conversation about responding to Requests for Proposals across arts disciplines. The panelists share their experiences, observations, and advice from the adjudicators' side.
---
This engagement is supported by the Arts Midwest GIG Fund, a program of Arts Midwest that is funded by the National Endowment for the Arts, with additional contributions from Ohio Arts Council.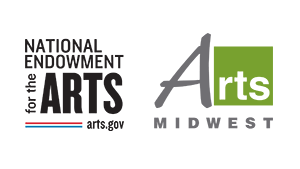 The Black Futures Series is supported by: