Georgia O'Keeffe, the Power of Place & the Creative Ecosystem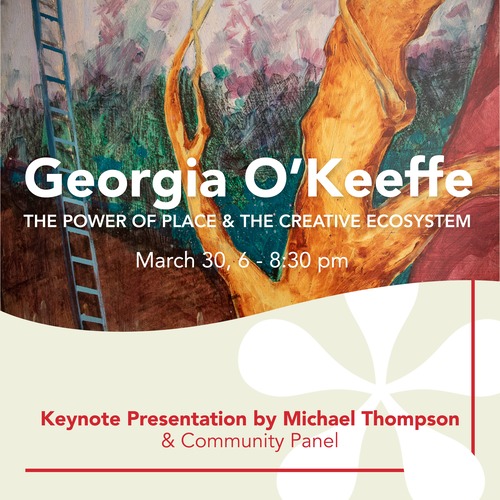 Thursday, March 30, 2023 at 6–8:30 p.m.
Fath Auditorium
$5 Members and general public, Free for Teachers & College Students.
Registration required.
Georgia O'Keeffe, the Power of Place & the Creative Ecosystem considers the work of the multidisciplinary conceptualist, Michael Thompson, and the renowned American modernist, Georgia O'Keeffe. Thompson reflects on the interconnection between the two as they construct, capture, and are influenced by their environments. The keynote presentation will discuss the power of place and space by navigating the practices of the two artists as they exist within a creative ecosystem, interacting with both the built and natural worlds as integral parts of their creative identity.
Following the keynote, there will be a community panel featuring artist Michael Thompson, poet Sherry Cook Stanforth, as well as photographer Asa Featherstone. We will end the evening with a Meet & Greet featuring the panelists, and their work will be available for purchase.
Biographies of the Speakers:
Keynote and Panelist- Michael Thompson is a multimedia artist, ethnographer, and poet. He takes on the role of artist as archivist; collecting things, spaces, and histories to add to his work and life. His practice focuses on human ecology and nuance as well as the philosophy of nature, space, and built reality. Michael is a TEDx Speaker, Artist-in-Residence Emeritus at the Cincinnati Art Museum, Contemporary Arts Center, Cincinnati Shakespeare Company, and Cincinnati Chamber Orchestra. He was a BLINK 2022 Muralist and has exhibited with CAM, Wave Pool, and Kennedy Heights Arts Center in the past year.  He was recently awarded the Ohio Arts Council Individual Excellence Award, two ArtsWave Grants, the Cincinnati Art Club Award, and The Carl B. Westmoreland Fellowship for his ongoing project, "Sanctuaries."
Panelist- Sherry Cook Stanforth is the founder/director of Originary Arts Initiative, providing regional arts- and nature-inspired programming for diverse populations. She is the managing editor of Pine Mountain Sand & Gravel and Riparian: Poems, Short Prose and Photographs Inspired by the Ohio River (Dos Madres Press, 2019). Her poetry collection Drone String (Bottom Dog Press, 2015) reflects the storytelling and music traditions of her Appalachian heritage. She performs in two bands, Tellico and Tangled Roots, and enjoys hiking, beekeeping and studying native plants. 
Panelist- Asa (AY-suh) Featherstone, IV is a Cincinnati-based artist who makes photographs and films highlighting the shared experiences that make us human, prioritizing the beauty and versatility of daily Black life. His approach is personal and vulnerable in hopes that we connect with one another through authenticity. He regularly contributes to Wall Street Journal, has worked with TIME Magazine, and Google along with several art institutions in the region who share a similar mission of showing the value in people's stories. His most recent archival photo book: Yesterday, today and tomorrow, in collaboration with the Cincinnati Art Museum, featured on Google's Arts & Culture page exploring the Black experience in the United States.
Image credit: Michael Thompson, "Sanctuaries // Home Away From Home", Oil and Charcoal on Panel, 31x49
---
To request accessibility accommodations, please email [email protected] at least two weeks before the event.
Add to Calendar
Purchase Tickets